art deco architecture
Art Deco is broad term used to describe the prevalent aesthetic movement that evolved over roughly a 20 year period between the two World Wars. It encompassed everything from art, interior design, fashion, typography, film and of course architecture. On early examples ornamentation is very much apparent, but it is stylized and geometric. The crown of the Chrysler Building in New York with its curves, steps formed of gleaming metal and accentuated with triangular windows evoking sunrays is often cited as a great example of this early part of the style. Closer to home, one can look to the Kennedy-Warren on Connecticut Avenue and the Brownley's Building on F Street as great examples too. As the style progresses through the 1930s, the ornament is pared down and the work is streamlined, expressing movement, speed and efficiency. Ocean Liners, streamlined locomotives and the many small hotels lining Ocean Boulevard in Miami Beach are great examples. And again closer to home, our region contributes at a very high level with the likes of the former Greyhound Terminal on New York Avenue and the Silver Theater in Silver Spring. There are hundreds of great examples in and around Washington and we invite you to learn more about them here.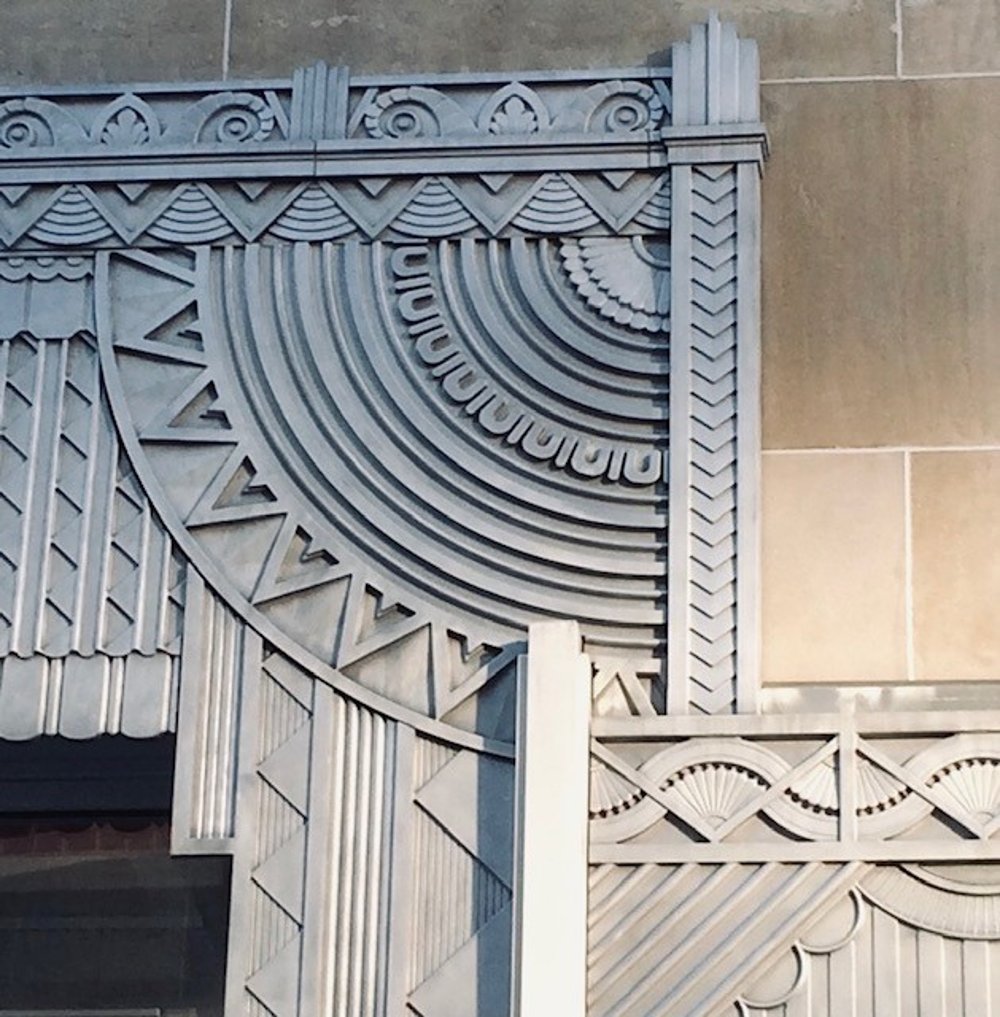 buildings inventory
This section will help lead you through the more than 70 Art Deco buildings in the Greater Metropolitan DC area. Click on the "See List" button to the Right that will take you to an inventory listing of all of the Art Deco structures pictured below under Buildings Gallery. The entries are sorted by geographical location and by function.
BUILDINGS GALLERY
The Greater Metropolitan DC area has a wealth of Art Deco buildings. From Downtown DC and its residential neighborhoods to the suburbs of Northern Virginia and close-in Maryland you will find great examples of Zig-Zag Deco, Streamline Moderne and Deco-ized Classicism that we have come to refer to as Greco Deco. This section will help guide you through more than 70 of these great Art Deco buildings that we have catalogued so far. This is intended as a work in progress, so we invite you to check back from time to time to see what beautiful and exciting additions we have made.

Click on the images for more detailed information including history, architecture, photos, and maps.